Saturday, 4 November 2017
6 benefits for choosing self-catering accommodation for your next holiday in Aberdeenshire
Choosing where to stay during a family holiday or a trip with friends can be a frustrating exercise. Balancing preferences and budgets is simply a nightmare. We might be biased, but we believe that choosing self-catering cottages has pretty strong advantages over staying in a hotel.
#1: HOME FROM HOME
While travelling with friends, family members or children who have dietary requirements, choosing the self-catering option allows you to cook what you want, when you want. Which means if you want breakfast in the middle of the day – you are welcome to it! Our lodges have fully equipped modern kitchens, so you can control the ingredients, portions or cooking methods if that's required. You can keep to your own routine or break out of however you want! If you have babies, you can prepare and store baby food ready for whenever you child wants it. For those who are inseparable with their furry friends, our pet-friendly self-catering cottages come with food bowls and doggy treats, so you don't need to bring your own.
Take a tour inside our lodges here
#2: FREEDOM
You get to come and go as you please and set your own holiday timetable. You can enjoy a relaxing or a very active break. You aren't restricted to designated meal times so you can choose to eat your breakfast at a time that suits you, whether you are an early bird or a late riser. If you want to have a lie in, you can! The beauty of a self catering holiday is that you can do everything at your own pace.
#3: EXCELLENT VALUE FOR MONEY
When booking self catering accommodation, it usually works out to be more cost effective than a hotel, especially if you are travelling as a family or a group. Our Aberdeenshire lodges have two bedrooms meaning you won't have to pay for several individual rooms as you would in a hotel. Having the option to do your own shopping and to cook your own meals ensures that you can make your holiday extremely cost effective. Although eating out has its benefits, it is also expensive to visit a restaurant every night. Shopping in local stores and preparing meals in the comfort of your self catering property can help save you money on your holiday, whilst still allowing you to enjoy your surroundings and the local food. There is a laundry machine in each of our cottages, which means you don't need to pay for dry-cleaning as you would in a hotel and they would certainly come in handy if you plan on getting messy exploring the outdoors of Aberdeenshire.
#4: SPACE
Self-catering accommodation is usually much more spacious than hotel rooms, so they're ideal if you are travelling with friends or family. Let's face it, just because you are travelling with friends, doesn't mean you need to spend every waking moment with them! Our cottages have a living/dining area that everyone can enjoy together as well as bedrooms which will give you privacy. If you want some fresh air without going too far, you can enjoy the stunning views from the outside deck or at the communal fire pit area. Every cottage has a large, heated external kit house for all your gear – golf clubs, fishing rods, bicycles, snowboards. So when it comes to sports and outdoor equipment, it can all be stored in a safe and secure location next to your lodge.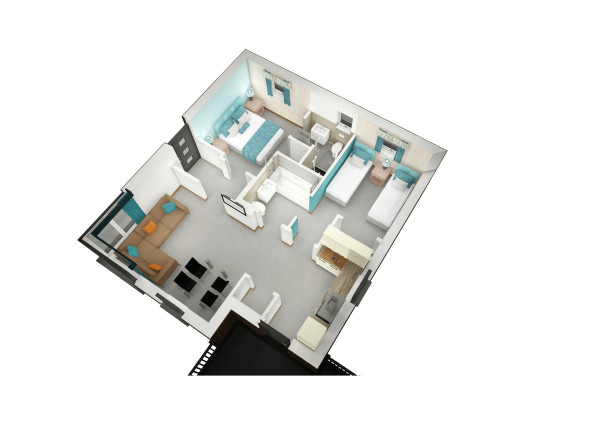 #5: FLEXIBILITY
From space, to meal times, to being able to wash your clothes, self catering accommodation offers you so much more freedom and independence than a hotel stay ever will. Our cottages are equipped with all the necessary appliances should you want to make pop-corn in the middle of the night, microwave leftovers, bake cookies or wash your clothes after a day of mountain-biking in the woods.
#6: PET-FRIENDLY
As our family dogs, Willow and Raven, will tell you, we are a pet-friendly self catering business. Being able to travel and go on a holiday with your pet is a great benefit for most of us, not to mention when it's a necessity. We recognise that you could have a guide or an assistance dog, or a therapy pet and it's important for you to keep your furry partner with you, which is why we are happy for you to bring them to stay at our self catering lodges in Stonehaven. We provide food bowls and drying towels for your and their convenience, and would just ask to keep your pets off the furniture and out of the bedrooms, to ensure that there is no damage to the property.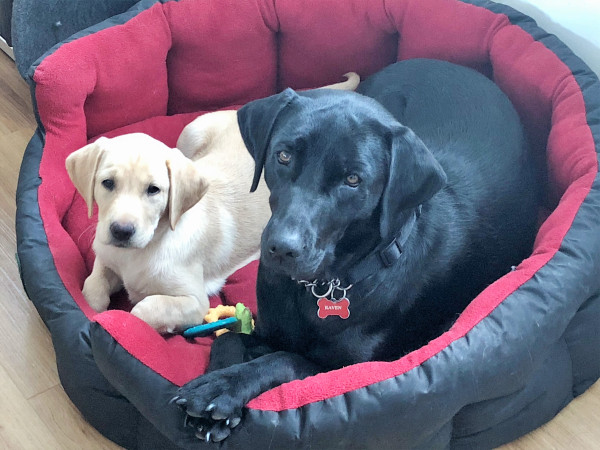 What are you waiting for? Come stay with us and create memories that will last a lifetime