Saturday, 4 November 2023
The advantages of staying in a self-catered holiday home
Choosing where to stay during a family holiday or a trip away with friends can be tough and frustrating. Balancing preferences, tastes and budgets can be a nightmare. We might be biased, but we believe that choosing self-catering cottages has pretty strong advantages over staying in a hotel or a B&B.
Freedom and Flexibility
The North East coast is best explored at your own pace, and self-catered accommodation provides the perfect base for you to set your very own holiday timetable. Not being confined by any set times for breakfast or evening meals, you are free to explore everything that Aberdeen and Aberdeenshire has to offer, whenever you like.
Having the freedom to explore at your own pace works for everyone; if you're an early riser, you can wake up and enjoy a hearty Scottish breakfast in your accommodation here at Dalriada, which boasts a fully equipped kitchen and be on your way. Or, if you are partial to a long lie on holiday, you are able to take a more leisurely pace when getting yourself ready to get out and about to explore the region. Sitting out on your private patio, breathing in the fresh sea air while enjoying a freshly brewed coffee and watching the dolphins leaping out of the water in the bay.
Not only are you benefitting from working around your own timetable, but you're also not confined to a single hotel room. You'll find that the all of our lodges benefit from a spacious open plan kitchen/dining/living area, 2 ensuite bedrooms, private patio and large kit house for storing bulky items like bicycles, buggies or paddleboards.
We have excellent high speed Wi-Fi at Dalriada allowing those who can work remotely to have a better work-life balance. Being able to fulfil your work obligations and still spend quality time with your family exploring the region.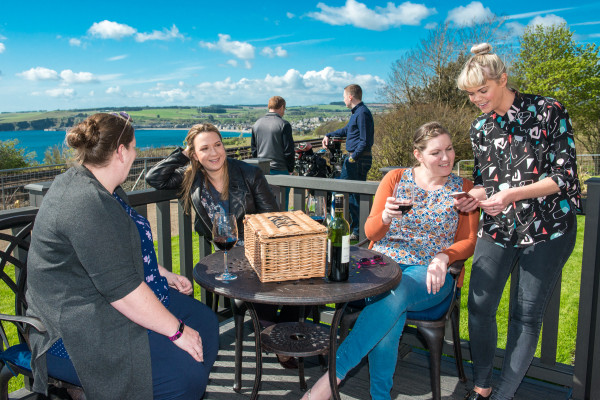 Home from home
Choosing to have a self-catering holiday is a fantastic way to enjoy a well-earned break away from the grind of day-to-day life, without having to give up all of those home comforts you have grown to love. Having the freedom to cook any meal you like in your very own kitchen, at any time of the day, means that you can keep to the routine you would keep to at home.
While some people do enjoy getting away from all homely amenities for a while when they go away, it's fair to say that having them on hand if you do feel like you need some home comforts is handy. In this day and age, Wi-Fi is a must, especially if you're bringing children along on your holiday, and it can be a real lifesaver, especially when the kids start getting bored in the evening.
It's also worth noting that most of our self-catering accommodations boast a considerable amount of space when compared to that of hotel rooms, so they're perfect if you are travelling in a larger group. You'll also find that our self-catering accommodations come armed with a large communal living space to encourage more social interaction, which is exactly what a holiday with your loved ones should be all about.
From space, to meal times, to being able to wash your clothes, self-catering accommodation offers you so much more freedom and independence than a hotel or B&B stay ever will. Our holiday homes are equipped with all the necessary appliances should you want to make popcorn in the middle of the night, microwave leftovers, bake cookies or wash your clothes after a day of mountain-biking in the woods.
Take a tour inside one of our lodges here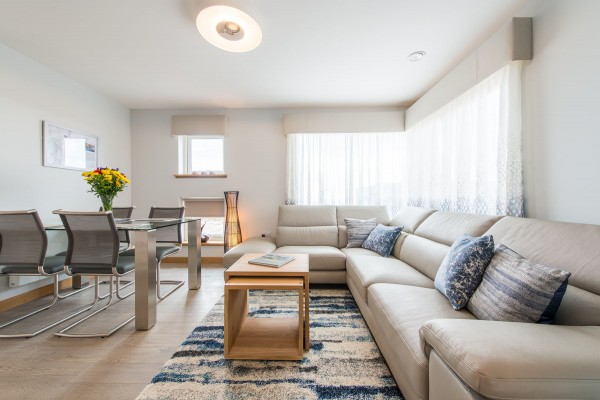 Excellent Value for Money
Self-catering accommodation provides a fantastic option for anyone looking for a break on a budget, especially if you are travelling as an extended family or a large group. Our Aberdeenshire lodges each have two bedrooms meaning you won't have to pay for several individual rooms as you would in a hotel. Not only are you benefitting from saving money when you initially book your accommodation but choosing to purchase your own food locally at the farmers market or butchers to cook in your holiday home can be extremely cost effective.
However, you always have the option of choosing to eat out if cooking sounds like a bit of a chore after a long day exploring. Stonehaven has many delicious restaurants which serve all manners of hot dishes that will satisfy even the fussiest of eaters. The restaurants at the harbour boast impressive menus and are well worth a visit during your stay in Stonehaven.
Dog-Friendly
As our family dogs, Raven and Willow, will tell you, we love having dogs come to stay. Why should your four-legged friends miss out on all the fun?
Being able to travel and go on a holiday with your pet is a great benefit for most of us, not to mention when it's a necessity. We recognise that you could have a guide dog or an assistance dog, or a therapy pet and it's important for you to keep your furry partner with you, which is why we have 6 pet friendly apartments and cottages at Dalriada.
We provide a welcome note and doggy pack from our dogs to yours so they feel included too.
Stonehaven and Aberdeenshire is the perfect playground for any dog, with plenty of walks and beaches to explore and an abundance of new sniffing grounds.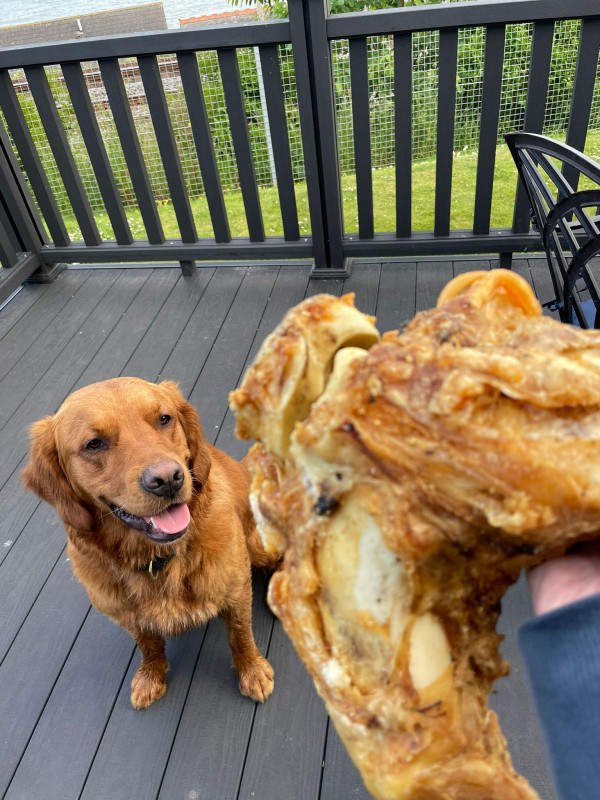 What are you waiting for? Come stay with us and create memories that will last a lifetime.